It's the perfect time to go...
Sumatra Orangutan Trekking
At Sumatra Orangutan Trekking, we take pride in organizing exceptional and ethically guided jungle trekking eco tours that not only offer unforgettable experiences but also contribute to the preservation of the Gunung Leuser National Park and its endangered orangutans. Our commitment to respecting nature and supporting the local community goes hand in hand with our unique offerings.
In addition to our traditional trekking adventures, we offer Eco Workout Treks designed to add a fitness element to your jungle experience. These special treks blend the excitement of jungle exploration with invigorating workout sessions using natural elements. During these workouts, you'll have the chance to train with rocks, logs, and other natural props, all while learning basic Muay Thai self-defense techniques. This exceptional approach allows you to truly connect with nature, challenge yourself physically, and elevate your overall trekking adventure.
We are proud to emphasize our commitment to ethical guiding practices. Our English speaking guides are certified by the Indonesia Tourist Guides Association (ITGA-HPI Himpunan Pramuwisata Indonesia) and are passionate about sharing their knowledge with you. They are not only dedicated to ensuring your safety and enjoyment but are also actively involved in keeping the Gunung Leuser National Park clean and safe for both humans and animals 
As part of our dedication to environmental stewardship, we have implemented a proactive program to collect and remove trash from the park. We believe in the importance of leaving no trace and are committed to maintaining the pristine beauty of this natural wonder. By joining our tours, you not only get to immerse yourself in the splendor of the jungle but also actively contribute to its conservation.
Moreover, our day tours and activities play a vital role in supporting the local community. When you choose one of our trekking tours, 10% of the proceeds are directed towards children in Bukit Lawang who may not have access to education and single mothers who face financial challenges. This financial support enables these children to attend school and empowers single mothers to find sustainable employment, enabling them to provide for their families.
Choose Sumatra Orangutan Trekking for an unforgettable and responsible jungle adventure that combines ethical guiding, respect for nature, trash collection initiatives, and meaningful contributions to the local community. Your journey with us is a journey of purpose, that you will never forget.
make unforgettable memories
Our orangutan trekking tours
our super spicy ethically
Sumatra Orangutan Trekking team
Dony is a jungle super star in his own way and an ecological guide. His knowledge of the jungle is unquestionable. With more than twenty years experience as a jungle trekking guide in Bukit Lawang, Dony can talk endlessly about the plants and animals during jungle trekking. Dony has a big respect for nature, so jungle trekking is not only a job for him; he also loves to spread the message about how important our environment is and how we need to take care of it. Dony has many talents beside being a professional jungle trekking guide—he's also a good guitar player and not so bad as a great singer.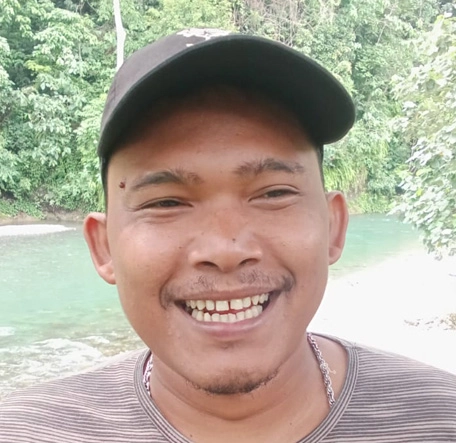 Brema has lived in Bukit Lawang all his life, and knows the surrounding jungle like the back of his hand. Young, energetic, and full of life, he always has a big smile for his customers and is always ready to lend a helping hand. Brema has great skills at spotting wildlife in the jungle and has Tarzan-like strength. Brema always wants to provide the best service for all of his customers during their jungle trekking trips. His favorite saying is "Keep smiling."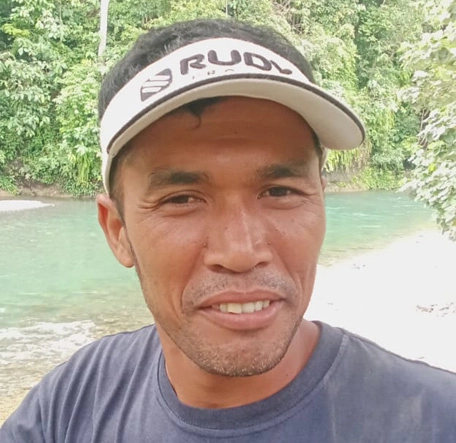 Five star jungle
Michelin chef
Ongat is a native of Bukit Lawang who grew up 2 km from Bukit Lawang. He developed an interest in cooking at a young age, and as his natural talents for using different ingredients to create delicious meals grew, so did his reputation as a fantastic jungle chef. If you choose more than one day of jungle trekking with us, Ongat will prepare authentic Indonesian meals for you using secret recipes passed down through the generations by his family. In addition to being a great cook and having an infectious smile, which is why we call him Mr. Good Looking and Good Cooking!
Eco Workout jungle instructor
Meet Dedek, our Eco Workout enthusiast, instructor extraordinaire, and nutrition expert! With a decade of Muay Thai experience and as a master coach at a top MMA center in Medan, he's the ultimate fitness guru. But Dedek's passion truly shines when he's in the jungle, conducting Eco Workout sessions that utilize nature's elements. Born and raised in Bukit Lawang, Dedek is also deeply committed to spreading the message of environmental care. Besides his fitness expertise, Dedek has extensive knowledge of nutrition and can provide guidance in that aspect as well. And did we mention he's an incredible guitarist and singer too?
let the adventure start now
Choose a trek
to tick off your bucket list
Bukit Lawang
North Sumatra
Indonesia
Choose a trek
to tick off your bucket list
Bukit Lawang
North Sumatra
Indonesia
Here are some of the most common questions we get from our customers. Hopefully, this will help you. Otherwise, don't hesitate to contact us!