3 day private package tour
Unleash the magic of Sumatra through our exclusive 3 day Private Package Tour. Commencing with a seamless pickup from Medan's airport or your hotel, delve into the captivating jungles of Bukit Lawang, embarking on an enthralling orangutan encounter and wildlife expedition. Day three unveils Medan's cultural gems as you explore an iconic spot of heritage. Conclude your journey with a blissful one-and-a-half-hour luxury massage, bestowing you with a truly enriching adventure!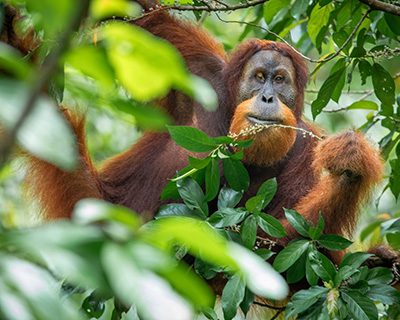 4 DAY PRIVATE PACKAGE TOUR
Embark on an unforgettable 4 day Private Package Tour, as we whisk you away from Medan to the captivating village of Bukit Lawang. Immerse yourself in nature's wonders, encountering orangutans and diverse wildlife. Spend 1 night camping under the stars, embraced by the beauty of Gunung Leuser National Park. On day four, discover Medan's historical treasures and rich heritage. Conclude with a luxurious one-and-a-half-hour massage, leaving you refreshed.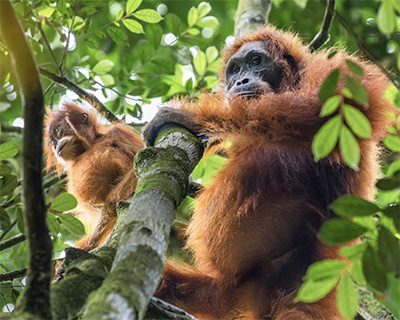 5 DAY PRIVATE PACKAGE TOUR
Join us on our 5 day Private Package Tour, commencing in Medan. Let us bring you to Bukit Lawang, immersing you in nature's wonders with exhilarating orangutan encounters and diverse wildlife sightings. Experience the magic of spending 2 nights camping under the stars, surrounded by the untouched beauty of the jungle. On day five, you will experience Medan's historical treasures and end your adventure with a fantastic one-and-a-half-hour massage leaving you revitalized.
general info about our private package tours
Discover the enchanting wonders of Sumatra with our exclusive Private Package Tours, designed for a memorable and immersive experience.

Your journey begins with a convenient pickup either from Medan's airport or your hotel, ensuring a smooth start to your adventure. From there, we'll drive you to the captivating village of Bukit Lawang, where you'll check in at your chosen hotel.
Day 2 unveils the heart of your jungle expedition. After a delectable breakfast at your hotel, our friendly English-speaking guide will pick you up at approximately 9 o'clock. Depending on your chosen package, you'll spend one, two, or three days immersed in the wilderness, exploring the wonders of the jungle.
On your last day, following breakfast, we'll take you back to Medan. There, a delightful lunch awaits, providing you with the energy to embark on a cultural journey. You'll have the opportunity to choose between two iconic spots: the opulent Istana Maimun or the magnificent Tjong A Fie Mansion, both reflecting Medan's rich heritage.
To complete your exceptional experience, indulge in a rejuvenating one-and-a-half-hour massage, leaving you refreshed and revitalized. Afterward, we'll drop you off either at the airport or your hotel in Medan, bidding you farewell with cherished memories of your unforgettable Sumatran escapade.
what is included in the price?
Pickup and Transportation: Complimentary pickup service from Medan's airport or your hotel is included. We'll drive you to Bukit Lawang, the starting point of your adventure.
Accommodation: Accommodation expenses are covered, allowing you to stay at a comfortable hotel in Bukit Lawang when your not trekking in the jungle. Breakfast is included on the nights you stay at the hotel.
English-Speaking Guide: Throughout your journey, you will have the assistance of a knowledgeable and friendly English-speaking guide who will lead you through the jungle and enrich your experience with valuable insights.
Jungle Trekking: Depending on the package duration (1, 2, or 3 days), you will be immersed in the captivating wilderness of Gunung Leuser National Park, encountering orangutans, diverse wildlife, and the natural beauty of the rainforest. Enjoy delicious meals and accommodations in a 5-star jungle tent (if you have purchased 2-day trekking or more). Your jungle trek will always end with a fun ride on a river taxi back to your hotel.
Lunch and Cultural Visit: On the final day in Medan, enjoy a delightful lunch before the cultural visit to either Istana Maimun or Tjong A Fie Mansion. This ensures you have the energy to explore and appreciate the region's historical and architectural splendor.
Massage: After the cultural visit, indulge in a luxurious one-and-a-half-hour massage, ensuring relaxation and rejuvenation before your departure.
Moreover, your Private Package Tour guarantees exclusivity, as there will be no other participants except for the dedicated staff from Sumatra Orangutan Trekking, ensuring you have a personalized and intimate experience throughout the journey.
Please remember to review the specific inclusions of each package for more comprehensive information, as they may vary depending on the chosen Private Package Tour.
support the nature & the local community in butkit lawang
When you choose one of our Private Package tours, you actively contribute to the preservation of Gunung Leuser National Park. Each ticket purchased aids in protecting the jungle's endangered species and combating illegal logging.
Rest assured, our trekking guides are certified by the Indonesia Tourist Guides Association (ITGA-HPI Himpunan Pramuwisata Indonesia). Their expertise ensures a safe and environmentally-conscious jungle trekking experience.
As advocates of sustainable tourism, we exclusively employ local guides from the community, benefiting their families and fostering a harmonious relationship with the region's nature and culture.
you help the children and single mothers in bukit lawang
When you choose our Eco Workout Trekking, 10% of your purchase goes directly to supporting underprivileged children and single mothers in Bukit Lawang. These funds enable them to access education and secure better opportunities for their future, fostering self-reliance for themselves and their families.
We warmly invite you to join our guided visit to meet these children and personally contribute the funds, making a positive impact on their lives. Together, we can create a brighter and more sustainable future for the local community.
Here are some of the most common questions we get from our customers. Hopefully, this will help you. Otherwise, don't hesitate to contact us!
Choose a trek
to tick off your bucket list
Bukit Lawang
North Sumatra
Indonesia
Choose a trek
to tick off your bucket list
Bukit Lawang
North Sumatra
Indonesia